You know the ALL-IN brand for its efficient, quality and comfortable surf ponchos, but did you know that ALL-IN is now your neoprene wetsuit repair specialist? You know the ALL-IN brand for its efficient, quality and comfortable surf ponchos, but did you know that ALL-IN is now your neoprene wetsuit repair specialist? Jean-Baptiste, founder of the ALL-IN brand, has now decided to open this service to all surfers, kite-surfers, windsurfers and divers who want to give their neoprene wetsuit a second chance by repairing them rather than to throw them away. Follow us to learn more about ALL-IN's new wetsuit repair service!
ALL-IN and neoprene wetsuit repair: a story that makes sense
The ALL-IN brand has existed for 10 years and has always been committed to reducing its impact on the environment. For example by working on the durability of surf ponchos. Or by banishing plastic transport bags in favor of reusable packaging. In the continuity of these actions, ALL-IN continues its commitment by offering a new repair service for neoprene wetsuits, open to individuals and professionals alike.
Repairing your neoprene wetsuit is a gesture for the planet
Emotionally, it's already difficult to part with your favorite combination, after sessions of good and loyal service. But what has motivated the ALL-IN teams even more is to act to avoid waste and overconsumption. Why part with a wetsuit and buy a new one when you can make repairs and make it perfectly usable again? Thus, we continue to use it, we reduce our waste and we make workers work directly in France! Isn't that beautiful? That's a lot of good reasons to seriously think about wetsuit repair and take the plunge.
Last argument that will eventually convince you and which also pushed the ALL-IN brand to develop this repair service: the price! The comparison is unbeatable: on average, you can have your wetsuit repaired for 45€ (but the prices start at 6€ for small repairs) while buying a new wetsuit will cost you more than 250€ most of the time! The calculations are quickly made… It is more advantageous to opt for the repair of your wetsuit so do not hesitate any longer!
ALL-IN know-how and expertise to repair your surf suit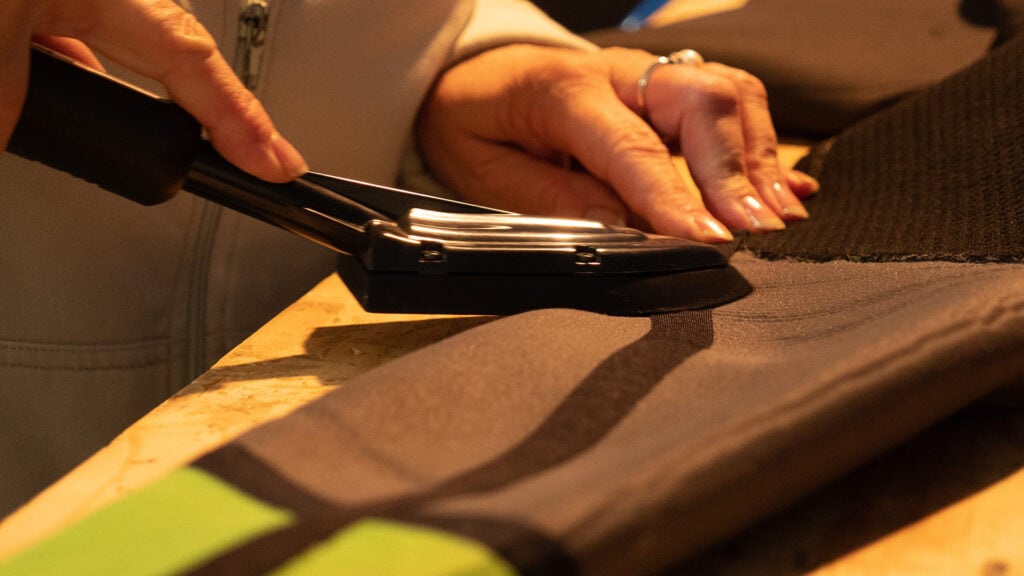 It has been several years since this neoprene wetsuit repair project germinated in the mind of JB, founder of the ALL-IN brand, and the teams have put in place everything necessary to make it a reality. Everything had to be carefully thought out to offer you impeccable service that benefits everyone. Purchase of a special technical machine for neoprene repairs, creation of a new workshop, sourcing of materials, internal tests, research to find the most experienced seamstresses possible… In 2022, this project can finally see the light of day! But since 2020 already, the biggest surf and sportswear brands have already trusted ALL-IN to outsource their wetsuit repairs. Patagonia, O'neill, Vissla, Isurus, for example, trust ALL-IN Wetsuit Repair. Thanks to the team in place and these partnerships, ALL-IN now has solid know-how and great expertise in the field. The seamstresses of the workshop are specialized in the work of neoprene, which requires specific training and machines dedicated to the work of this technical and demanding material. The experience they make available to ALL-IN allows the brand to be able to repair most of the damage to your surf suits, while ensuring an impeccable finish. Of course, ALL-IN combines these advantages with the speed of execution of the repair work, all for perfectly affordable rates. Do not hesitate to entrust your wetsuit to our seamstresses and register on the ALL-IN WETSUIT REPAIR website to estimate the repairs of your damaged wetsuit.
Other good reasons to choose ALL-IN for wetsuit repair.
We still have plenty of good reasons to convince you to have your wetsuit repaired with ALL-IN Wetsuit Repair!
We do not forget the ecological argument: if neoprene is undeniably the most effective material for making wetsuits for surfing and water sports in general, it must be kept in mind that this material is not really eco-friendly. friendly… Firstly, it is a material derived from petroleum, a non-renewable resource that is best avoided. And of course you know neoprene is unfortunately not a biodegradable material. It is therefore better to do everything not to produce too many and rather to repair those already in circulation.
Even if the ALL-IN Wetsuit Repair service has just opened to private surfers who want their neoprene wetsuit repaired, ALL-IN can boast of having a seamstress in its workshop with 30 years of experience. in the repair of neoprene suits. A real expertise that allows many possible repairs, quickly and above all with a high quality of the result.
Finally, aware that responsiveness and speed are essential concepts, ALL-IN puts everything in place to respond to you effectively. The brand's customer service responds quickly to your requests by e-mail or via social networks. A question, an interrogation, an emergency? Get in touch with ALL-IN and receive a personalized response live.
Repairing neoprene wetsuits: how does it work?
Confronted several times with a torn wetsuit and especially with the complexity of having it repaired, the ALL-IN teams have decided to offer you an ultra-simple process to allow you to have your wetsuit repaired quickly, efficiently and without hassle. We show you how to do it here…
Quickly complete the online form to get started
No more going around the surf shops with your injured wetsuit under your arm. ALL-IN makes your life easier with its online form. Very easy to fill out and above all fast, you can make your repair request directly from home. Once the form has been validated, you will know the price offered for the repair of your neoprene wetsuit. All you have to do is pay online, make a last mini effort to validate your payment and it's done: child's play and zero waste of time! That's more free time to go surfing!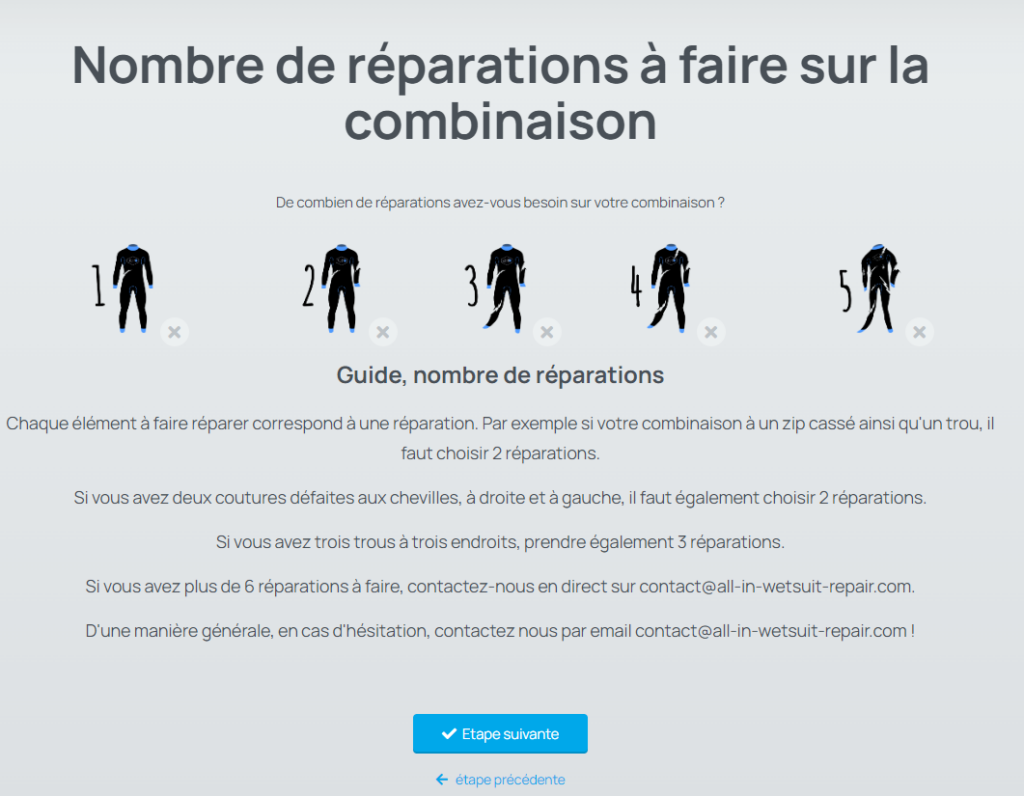 Send your wetsuit for repair
Have a good trip little neoprene suit, you are now expected in the Landes and you will have the chance to make a short stay in Hossegor or Seignosse, in the ALL-IN workshop. You'll pass through the expert hands of the girls in the workshop and you'll come out dressed like never before! And for you it's very simple: you just have to pack it in packaging suitable for travel and send it by post to the address that our customer service will have communicated to you. If you are in the area you can also drop it off directly at ALL-IN in Soorts-Hossegor or Seignosse, the team will be delighted to see you!
Once you arrive in our workshop…
When your wetsuit arrives at the workshop, our team of seamstresses takes care of it with the greatest care, be sure of that! Every day, the suits are picked up and sent directly for repair. Thanks to the information you have provided on the wetsuit repair form, the seamstresses in the workshop know exactly what they have to repair on your wetsuit. The work begins, and it is very meticulous, thanks to the experience and know-how of the ALL-IN team.
Return of your neoprene wetsuit repaired and like new!
That's it, your wetsuit is beautiful and flawless! No more problems with torn seams, unpleasant holes, unusable closure… The experts at the ALL-IN workshop have repaired everything and are sending your wetsuit back to you by post to your home! Do you live near one of our workshops in the Landes (Soorts-Hossegor or Seignosse)? Come and pick up your wetsuit live there will be someone from the team to welcome you.
Need more information?
Do you still have questions before taking the plunge and entrusting ALL-IN with the repair of neoprene wetsuits? Find below the answers to the most frequently asked questions and the repair of neoprene wetsuits will have no more secrets for you!
How much does it cost to repair a wetsuit?
The question of price is very important when deciding to repair neoprene wetsuits. On average, a repair of neoprene wetsuits costs 45€. But it will depend on the repair you need and your personal case. Indeed, the most accessible repairs will cost you less than 10€, a hole in the elbow 18€, and the replacement of a complete zip will be charged 40€ for example. Good news, you can consult all the prices here, and even make a simulation of the total cost of the repairs thanks to our form available here. But remember: it's more advantageous than buying a new wetsuit anyway!
Where is the repair of wetsuits done?
ALL-IN campaigns for eco-responsible consumption, so needless to say that the wetsuits to be repaired will not be sent to the other side of the world to be refurbished! It is therefore in the ALL-IN workshops of Seignosse or Soorts-Hossegor (in the Landes department, in the heart of South-West France) that the repair of neoprene suits will be done. Because ALL-IN loves Made in France! The seamstresses who work on the suits are hired by ALL-IN and are part of the brand's team. Chosen for their expertise and know-how, acquired from major surfwear companies, you can place your trust in them for the repair of quality neoprene wetsuits.
Can you have your diving or triathlon suit repaired?
The answer is yes ! It has not escaped your notice that ALL-IN is a brand from the world of sliding. But the vocation of Jean-Baptiste, the creator of the brand, has always been to be at the service of all aquamen, whatever their favorite sport! Sliding sport or aquatic sport in general.
ALL-IN has therefore planned everything to meet repair requests for diving and even triathlon suits, for example. The repair process remains the same, but the ALL-IN workshop has thick, specific neoprene parts for neoprene wetsuits for these water sports. Despite the brand's surf DNA, ALL-IN Wetsuit Repair remains open to all water activities.
Can surf schools also have their wetsuits repaired?
Welcome surf schools! You know better than anyone that wetsuits are fragile, but that's not inevitable! You can increase their lifespan by organizing the repair of neoprene suits in the Landes workshops of ALL-IN. Privileged customer service, personalized quote, contact us for all the information and take advantage of our special service for professionals.
I'm a surfshop and I need you to repair neoprene wetsuits! Possible ?
Do your customers constantly ask you for the repair of their combis? That's it, you've found the solution! ALL-IN can assist you in setting up this repair service, contact the dedicated teams to study the possibilities available to you so that you can finally offer this important service to your customers and build loyalty.
The ALL-IN team is delighted to introduce you to its new ALL-IN Wetsuit Repair service, a novelty that will revolutionize your practice of water sports with as little impact as possible on your wallet and the Planet as well. If questions persist or you need personalized advice, our customer service is responsive and available by e-mail, the team will be happy to answer you and help you. So see you soon on the spot with a neoprene wetsuit without holes or tears!