Are you looking for an indoor poncho to chill out at home in cocooning mode? You are in the right place! Our plaid poncho model corresponds 100% to your search. We'll tell you more right away…
When the leader in terrycloth ponchos goes cocooning.
Yes, it's okay, we're not afraid to proclaim ourselves as the leader of the terrycloth poncho, and have been doing so for 10 years now! The poncho is the spearhead of the ALL-IN brand. It all started like that, and then the company's colourful and fun world appealed so much that there are now dozens of different product lines. The indoor poncho, also known as a plaid poncho, is one of our newest and most popular products.

We have worked hard to bring you a 100% recycled and GRS (Global Recycled Standard) certified model. Initially launched in a "one size fits all" format. We now have, by public demand, a range of sizes from Junior for children up to 15 years, to XS-M and L-XL.
Small size guide :
L-XL: 120cm long (not including hood). 80cm wide at the torso. 69cm wide at the waist. Sleeves of 71cm.
XS-M: 95cm long (not including hood). 69cm wide at the torso. 59cm wide at the waist. 69cm sleeves.
Junior: 90cm long (not including hood). 63cm wide at the torso. 54cm wide at the waist. Sleeves of 62cm.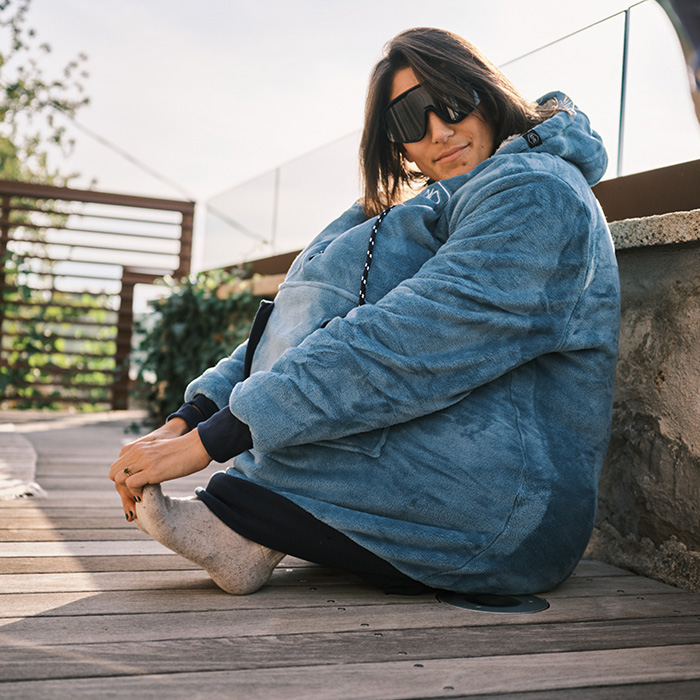 The plaid poncho is a way of life! Lounging in front of the TV or a good book on a winter's day when the pouring rain reminds you that it would be a bad idea to go outside unless you want to get sick.
Its sherpa and velvet material will give you a big smile when you try it on, which you'll keep for as long as it sits on your shoulders.
With the hood over your head and your hands in your pockets, all you have to do is put on some comfortable socks to be protected from head to toe.
So if your plan for this winter is to stay warm without spending too much on gas and electricity, think of the poncho plaid as a sound investment for you and all your loved ones!
Plus, if you're looking for a gift to give, we'd love to tell you that there have been no disappointments with the indoor poncho to date 😉
Women's indoor ponchos
As stated on our product pages, the sizes are identical for all indoor ponchos. We have a small selection for women which you can find here:
But don't hesitate to look at all the plaid ponchos, you may have a crush on a colour that is not listed among the women's!
The reverse is also possible, we noticed that the flashy yellow colour was actually more appreciated by the gentlemen 😀