Are you looking for an indoor poncho to chill out at home in cocooning mode? You are in the right place! Our model of hooded blanket corresponds 100% to your search and will allow you to spend more than pleasant moments and especially well with the heat! We'll tell you more right away…
When the leader in terrycloth ponchos goes cocooning.
Yes, it's okay, we're not afraid to proclaim ourselves as the leader of the terrycloth poncho, and have been doing so for 10 years now! The poncho is the spearhead of the ALL-IN brand. It all started like that, and then the company's colourful and fun world appealed so much that there are now dozens of different product lines. The indoor poncho, also known as a plaid poncho, is one of our newest and most popular products.

Why ? Because you like durable, comfortable, pleasant and quality products. And the Plaid ALL-IN poncho has all these qualities in one product. But that's not all! This product has a particularity that was very important to us and which is part of our ecological transition project: the Plaid ALL-IN poncho is a 100% recycled product! We have worked hard to bring you a 100% recycled and GRS (Global Recycled Standard) certified model. This internationally recognised and independent label assures you that the product you buy has gone through the recycling process. But that's not all, it also certifies compliance with environmental, social and even chemical criteria throughout the manufacturing process. Regular checks ensure that the rules of the label are always respected.
But let's get back to the creation of our Poncho Plaid. First launched in a "one size fits all" format. At the request of the public, we now have a size range from Junior for children up to 15 years old, to adult sizes XS-M and L-XL.
Small size guide :
L-XL: 120cm long (not including hood). 80cm wide at the torso. 69cm wide at the waist. Sleeves of 71cm.
XS-M: 95cm long (not including hood). 69cm wide at the torso. 59cm wide at the waist. 69cm sleeves.
Junior: 90cm long (not including hood). 63cm wide at the torso. 54cm wide at the waist. Sleeves of 62cm.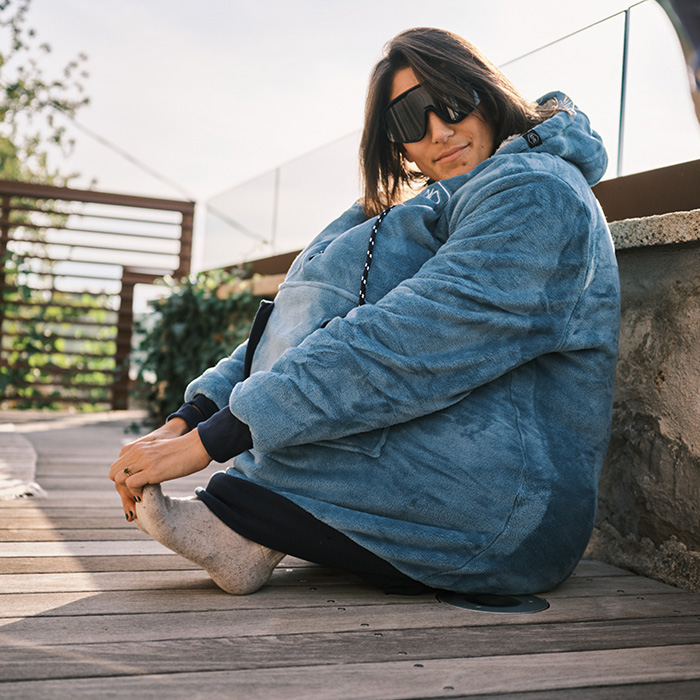 Since its creation, we have noticed something: the poncho plaid is a real way of life! It allows you to lounge in front of the TV on a winter's day when the pouring rain reminds you that it would be a bad idea to get some fresh air. Unless you want to get sick! You can also choose the cocooning option with a good book, hot chocolate and cookies, but always wrapped up in your ALL-IN plaid poncho. You won't be able to do without it to stay warm and comfortable, without being in your pyjamas.
What you will love about the plaid poncho: its sherpa and fleece-like velvet material, which will put a big smile on your face when you try it on. A smile that won't leave you as long as the plaid poncho is on your shoulders. We guarantee that for warmth, it's much better than the itchy wool jumper! You'll feel like you're warm in bed, snug in your duvet, except that you can go about your business… or not!
With the hood over your head and your hands in your pockets, all you have to do is put on some comfortable socks to be protected from head to toe.
By the way, for more practicality and to give you the choice, we have also created a plaid jacket version, with a zip on the front. Clever, isn't it?
So if your plan for this winter is to stay warm without suffering from rising gas and electricity prices, you have two options: either borrow Grandma's old woollen dressing gown, or invest in a plaid poncho for yourself and all your loved ones! Finally, if you're looking for a gift to give, we'd love to tell you that there hasn't been a single disappointment with the indoor poncho to date 😉 100% success rate when opening the gift pack! And immediate adoption of the poncho plaid of course.
Women's indoor ponchos
As stated on our product pages, the sizes are identical for all indoor ponchos. We have a small selection for women which you can find here:
But don't hesitate to look at all the plaid ponchos on our online shop, you may have a crush on a colour that is not listed among those for women! Our designs, prints and colours are designed to appeal to both men and women.
The reverse is also possible, we noticed that the flashy yellow colour was actually more appreciated by the gentlemen 😀
Visit our online shop to choose your model. The good news is that delivery is very fast and secure, and is free for purchases over £100. No reason to hesitate!