SURFBOARD COVERS AND SOCKS
In order to solve the problems related to the transport of your board or its storage at home, think of the protective cover for your surfboard. ALL-IN offers its "socks" in the brand's colours. So, whether you have a longboard, shortboard or even an in-between board like a fish or a hybrid, you should find what you are looking for among our covers. Be careful to look at the picture with the size of the cups. If you have a funboard or a foam surfboard, there is a chance that it is too wide for the cover.
Our ponchos are mainly
unisex

To see everything it's over here 👇
Showing 1–24 of 59 results
Surfboard sock 44,95

€
A word about our surfboard covers
The advantage of socks, also known as surf covers, is that they are particularly light and will not affect the weight of the board when transported. If you're heading to the beach on a motorbike or bike, the grip will be much more comfortable than if you're carrying your board naked. To adapt to your comfort, discover our bags with carrying handles on our big models.
Did you know that a cover insulates your board from harmful UV rays and reduces the overheating of the board which causes the degradation of the material? Our cotton covers will largely protect your equipment from the sun, so you won't see your board yellowing from repeated exposure to the sun. Chilling on the beach for hours after your session will no longer endanger your surfing! No more delamination, your board will not melt in the sun, because the rays will not damage it, well protected under this cover.
This surf sock cover will also protect your vehicle and your home from sand and wax thanks to its thick and ultra-absorbent 100% cotton velour fabric. In our environmental and quality approach, we select materials with the STANDARD 100 label.
From one ride to the next, your board suffers daily shocks (more or less strong), the thick cotton cover prevents it from being subjected to the superficial effects of impacts, scratches and cracks during the rides… or when the cat makes the board fall while playing with the leash!
Our covers fit all boards, from 6'0 to 9'0. Choose a cover that your board will fit into easily, even if you take it slightly bigger than this one. We have reinforced the nose (end of the bag) and put a drawstring to close the carrying accessory and keep the board inside.
What a surprise when you discover the internal Ripstop Nylon pocket placed at the level of the fins, allowing to ensure an optimal reinforcement and leaving you the possibility to store your leash or your beach towel!
There is something for everyone. There are styles for men and women, but also for children and adults. This is a must have for your gift list.
This board cover will accompany you on your travels just like your favourite neoprene wetsuits. You can also match your surf sock with our bags, which are available in similar colours.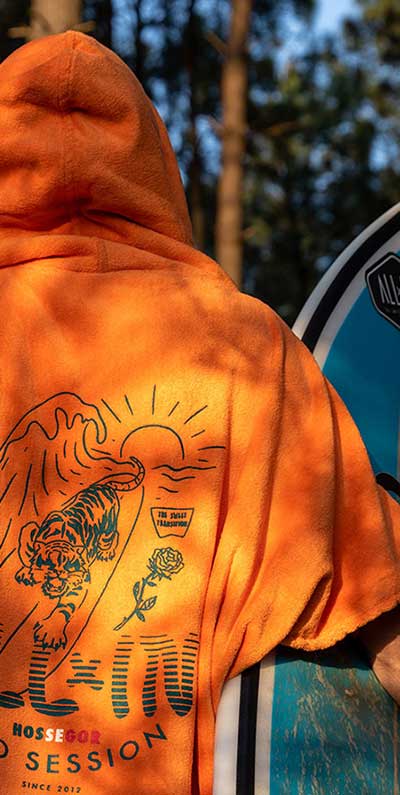 Sign up for the newsletter to get 10% off your first purchase!
Sign up for the newsletter to get 10% off your first purchase!