Storm Series : Ponchos & Changing robes
Our vision has been clear from the start: to bring comfort to watermen at any time of the year. In winter, the matter becomes more complicated. Sometimes you have to brave the bad weather and change in the rain or when the temperatures don't rise above 10° 😱
Naturally, in 2015, ALL-IN is expanding its "Storm Series" offering. Objective: comfort even under the storm. Our first product: the storm poncho offers a waterproof surface with a nose cover to leave only the eyes when the conditions require it. Of course, the range also expresses itself in moderate conditions. You don't have to cross a forest in Galicia to go sailing in 90km/h winds to use our products.
The ALL-IN plus: ponchos and jackets turned towards ecology, 100% recycled.
Our ponchos are mainly
unisex

To see everything it's over here 👇
Looking for the best winter poncho on the market? You've come to the right place!
When you love surfing and water activities, you can't wait for winter and autumn to finally get back in the water. In fact, the conditions during these seasons are often unique and promise crazy waves that you don't necessarily find in summer.
So, to stay warm in the water, thick wetsuits have always existed. In addition, you can put on a bonnet, booties and gloves to be completely protected!
That said, once you're out of the ocean, things get complicated! Having your body at the mercy of the wind is never pleasant when the outside temperature is 0°… To change, some people go straight home in their wetsuits. We understand, but this risks damaging your suit, and your car of course.
The perfect scenario is to change directly after the session and stay warm until you get home. This is exactly what you can do with our waterproof storm poncho.
Its wide cut allows you to be comfortable when changing underneath. Note that buttons allow you to adjust the width of the opening at the bottom of the poncho.
We offer an adult size, as well as a size for children. More and more young people are signing up to surf, so to keep them safe, don't hesitate to make the right gesture, a cold can happen quickly.
Our range of storm ponchos is made entirely from recycled materials, without any loss of quality in the construction of the product.
For more practicality, you will find waterproof zip pockets on our models.
The zip of the jacket is 100% waterproof.
Our designs are sober and stylish, whether you opt for black or khaki.
So what are you waiting for to replace your towel?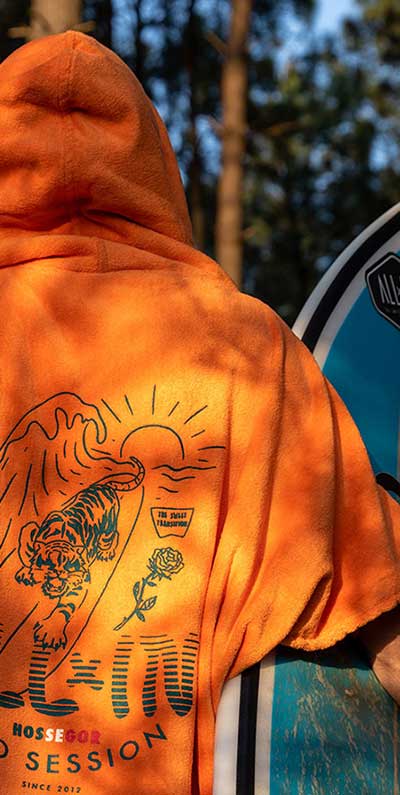 Sign up for the newsletter to get 10% off your first purchase!
Sign up for the newsletter to get 10% off your first purchase!