ALL-IN redesigns the old-fashioned poncho with a singular design, a strong aestheticism, always with the concern of offering quality products. Studied for the frequency of use of seaside board sports enthusiasts in all weathers, the materials are ultra-absorbent, fluffy and warm. Ideal for surfing, the beach, but also for bathing and any other occasion to dry off!
Our first surf ponchos go on sale in 2012 and appear on the landscape of surf spots. Intended for all those who are tired of struggling to change before or after a session in the water, we imagine a complete range that makes the practice of water sports more pleasant and finally replaces the traditional beach towel unsuitable for the change of sportsmen of the beaches.
The range of ponchos of the brand is adapted to all with cuts intended, here for women, but also for men and for the smallest on our page children. No one has been left out at All-In, we have thought to adapt to all profiles!
If you are looking for an original and useful gift, the surf poncho is the perfect accessory to offer to your surfing friends!
No matter what you do, you have a wide choice in our range. The different cuts allow you to use them in all seasons: short or long sleeves, thicker or thinner fabrics depending on whether you surf in summer or in winter.
The women's ponchos are designed for sizes ranging from 1m55 to 1m85. Our goal is to adapt to all body types and all occasions. Discover the light ponchos in microfiber to accompany you during your trips!
Discretion and comfort during the change motivate our work on these models of beach ponchos. You will finally be able to remove your wetsuit out of sight while staying warm and dry.
At All-In, we are committed to the environment. With a zero plastic objective, you will receive your surf poncho packaged in a nice reusable bag.
Showing 1–24 of 32 results
V Poncho Beach Crew 69,95

€
Women's surf poncho: a guide to choosing the right one

At ALL-IN, in addition to the unisex surf ponchos, we decided a few years ago to offer a collection of women's surf ponchos. Indeed, women need privacy to be able to change discreetly, even more than men. Find the women's model that best suits you according to your tastes, your needs, its usefulness etc… We will guide you in your choice!
Choosing the shape of your surf poncho for women
The ALL-IN brand was the first to think and develop several shapes of surf ponchos in order to meet all the needs of aquamen and aquawomen. If most of the models are mixed, ALL-IN has also developed women's cuts specially adapted to the female morphology.
Thus, you have the possibility to choose between several shapes:
The C shape: C for Classic! This is the basic and unavoidable shape that suits everyone, man or woman. You are sure not to make a mistake!
The V shape: this is the classic surf poncho, but looser and therefore easier to put on and with more space to change inside. The result is greater freedom of movement!
The T shape: this is THE shape most adapted to you women because it was created to adapt to the woman's body by hiding what is needed when you take off your neoprene suit for example.
So, have you made your choice of a C, V or T shape surf poncho? If not, there are other shapes to discover on our e-shop, go and have a look!
Choose the colour. More classic or full of colours?
Are you hesitating about the shape of your future surf poncho for women? Maybe the colours, patterns and prints offered by ALL-IN will convince you! There is something for everyone.
Take advantage of the purchase of your new poncho to add a little fantasy and fun to your aquatic life! ALL-IN has always offered original products for women and men, to add a little colour and dynamism to your surfing, swimming, wakeboarding, water skiing outings… The brand likes to offer surf ponchos that stand out from the sobriety of the usual models.
The ALL-IN touch is original and exclusive prints and designs, created by graphic designers exclusively for the brand. Each season, several prints designed specifically for women are proposed: pastel colours, floral prints or girly patterns, each season has surprises in store and beautiful models of women's surf ponchos.
Choose the material. Between microfibre, cotton and bamboo… Every surfer has her preference.
Another important point not to neglect when choosing your poncho: the material! For some it will be an obvious choice, for others a difficult one. Perhaps we can help you decide?
To put it simply, there are 3 main families of materials at ALL-IN: women's surf ponchos in thicker material, those in thinner material, and finally the ponchos whose material is ideal for a cocooning moment at home.
The thicker ones are made of a particularly soft, absorbent and resistant terry cloth. If you prefer a thinner fabric, opt for microfibre or honeycomb cotton, which are light but without compromising on softness and absorption! Finally, we'll let you discover plaid ponchos: a hoodie with unrivalled softness for chilling out on your sofa…
Patterns, shapes, materials… The choice is vast at ALL-IN and the female sex has not been forgotten! Surf our site to find the best poncho for women, without compromising on style and quality.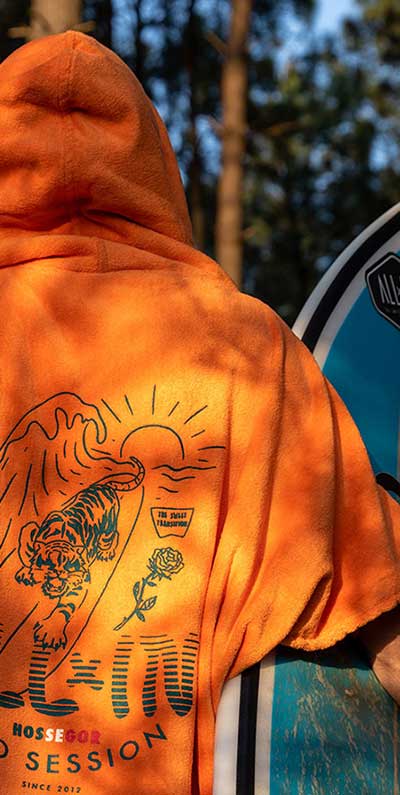 Sign up for the newsletter to get 10% off your first purchase!
Sign up for the newsletter to get 10% off your first purchase!