You thought we had forgotten the apprentice champions? ALL-IN has developed a range of surf ponchos for the little ones. To accompany you and facilitate the changing of your toddlers who love board sports, we have created models for children based on the same codes as those of adult ponchos.
The range was launched in 2012 with success (a real revolution for changing after water sessions). The practice of sports in the sea is on the rise and the little ones also have their requirements!
At All-In, we have adapted to the evolution of the child and we have developed models by age group. For babies, from 0 to 2 years old, the poncho has not finished its growth, we speak of "cap" of bath, much more practical for the change! From 3 years old, things start to get serious… You will find in these children's models the aestheticism of the brand with strong and trendy designs. Graphics and colors are at the rendezvous.
A birthday party? What's more fun for a toddler than to look like his surfing idol, a surfing or kitesurfing champion… make the pupils of the children of the coast shine by getting them a beautiful poncho like the pros… Too stylish a gift!
ALL-IN redesigns the tribal poncho with a singular design, a strong aestheticism, always concerned about offering quality products. Studied for the frequent use of the small followers of the sports of slips of sea under all the times, the materials are ultra-absorbent, fluffy and hot. The fabrics chosen are made of cotton and 100% recycled materials to reinforce the particularly solid finished product.
As for the adults, the children's range is available with short or long sleeves, thicker or thinner depending on whether the use is for winter or summer. Always made with a hood, the little sportsmen will be well covered from head to toe.
Thanks to the surf poncho, discretion is the order of the day and changing clothes becomes a pleasant and comfortable moment for the whole family. After each session in the water, with or without surfing… the terrycloth poncho keeps your toddlers warm and dry to avoid colds in drafts!
In keeping with All-In's commitment to zero plastic, you will receive your poncho in a reusable & eco-friendly bag.
Showing 1–24 of 61 results
V Poncho Junior 54,95

€

V Poncho Junior 54,95

€

V Poncho Kid 54,95

€

V Poncho Junior 54,95

€

V Poncho Junior 54,95

€

V Poncho Junior 54,95

€

Poncho Child 44,95

€

Poncho Child 44,95

€

V Poncho Kid 54,95

€

Poncho Child 44,95

€

V Poncho Junior 54,95

€

V Poncho Kid 54,95

€

V Poncho Kid 54,95

€

V Poncho Junior 54,95

€

Long Sleeve Poncho 64,95

€

Poncho Child 44,95

€

V Poncho Junior 54,95

€

Poncho Child 44,95

€

V Poncho Junior 54,95

€

V Poncho Kid 54,95

€

V Poncho Kid 54,95

€
Surf poncho for kids: find the perfect size for your little one

You are a parent and you know how the surf poncho for kids is the must-have accessory for the beach, the pool and even for bath or shower time at home. In a word, it is indispensable and much better than a towel! But do you know how to choose it? Discover our tips.
Choose a poncho adapted to babies
For the little ones, the very little ones, there are ponchos surfing for children like bath cape! Our terry bath capes are suitable for young children from birth to about 2 years old.
Absorbent, towel-like, they are perfect as a bathrobe to wrap and dry babies. With their original designs, their "superhero" look and their softness, these baby bath covers are appreciated by all the little ones… but especially by their parents!
We are proud of their practicality, their quality and durability and of course their fun look which changes the more classic models! Ponchos with a little originality for babies and young children.
Choosing a surf poncho for kids according to their age
We know: children evolve and change quickly. Surf ponchos for kids have to adapt to that! So we have created specific ranges according to the age of the child:
For a child between 3 and 6 years old, still small but not a baby anymore, we have a special model. You will easily recognize it, it is the one with little teddy bear ears on the hood. We love it! Available in several prints, you will have the choice on our website. Know that this model corresponds as well to the little girls as to the little boys, and that the shape of this poncho of surfing for the children was especially studied to allow your blond heads to be at ease and to be able to put it on all alone! Clever, isn't it?
The "Kid" surf poncho is suitable for children from 6 to 9 years old. Colorful, comfortable and all equipped with a hood and two large patch pockets, kids love them especially after surfing for a quick and efficient drying! There is even a long sleeve version.
Finally, if your child is a teenager (or pre-teen) between 9 and 15 years old, turn to the "Junior" model. Still made of terry cloth, you will also find a long-sleeved model for the more chilly or winter surfers who put on their neoprene in all weathers.
Choosing a surf poncho for your child according to his size
It is common that despite the age of your children, they do not fit the standard size. To avoid choosing a model that is too big or too small, on our website you can search for a surf poncho for children according to their size. The models are classified by size range so you can find the right surf poncho for kids without having to worry about it. For example, here are models of ponchos for kids adapted to kids between 1m25 and 1m65. A good way to anticipate the growth of your kids 😉
Good to know: like all ALL-IN surf ponchos, the kids models are guaranteed free of chemical elements that are harmful to the skin and the individual (OEKO-TEX® Certification) and use only dyes without heavy metals (AZO free Certification). In short, surf ponchos for kids that are totally safe for them!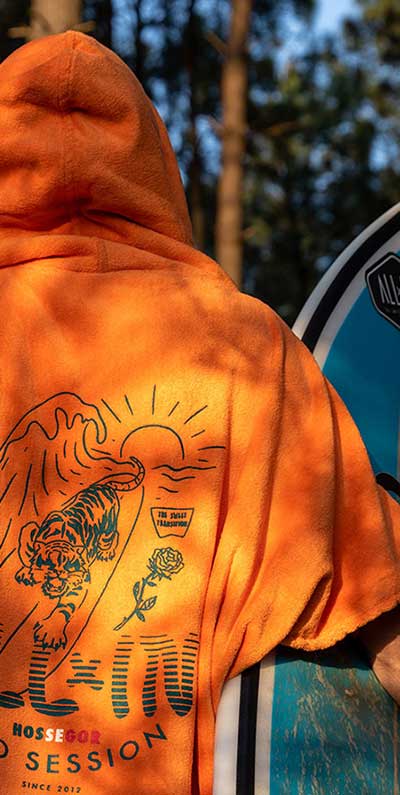 Sign up for the newsletter to get 10% off your first purchase!
Sign up for the newsletter to get 10% off your first purchase!