Same as bathing poncho, beach, poncho towel...
The surf poncho was our first product to be marketed. We wanted to respond to a real problem in water sports: changing clothes easily before or after a surfing, kitesurfing or any other water sport session.
ALL-IN makes this "difficult" practice pleasant, thanks to work on the aesthetics and quality of the ponchos that seduce surfers on the Landes coast and then all over the world. ALL-IN innovates an alternative to the beach towel, with strong designs, trendy colours, warm and drying materials, with its surf poncho. All-In ponchos are made of cotton and 100% recycled materials. The result is a soft and ultra-absorbent feel.
Depending on your practice, you will find in our range the model that suits you: long sleeves, short sleeves, light sponge fabrics or microfiber! The cuts offered are suitable for adults and children, and are available for men, women and children.
You can put on or take off your wetsuit discreetly and out of sight, while staying dry and warm. After each session, there is nothing more pleasant than simply enjoying the beach and the ocean as far as the eye can see, wrapped up in your beach poncho. This accessory, an essential part of the water sportsman's kit, can be used on the beach as well as in the pool and when you are not in the water, it becomes super cocooning for chilling out at home or having a drink on the terrace!
Adapted to body sizes from 1m55 to 1m90, for the adult range, this beachwear inspired by the traditional Quechua poncho now finds its place far from the mountains of Latin America to survey the beaches and surf spots of all coasts!
It is after 4 years of reflection, prototypes and energy that ALL-IN brings to light its ultra-qualitative and revisited ponchos. Modern, fresh and original graphics inspired by nature and travel come to life with the birth of All-In. The "Sweet Transition" (which refers to the easy change before and after the session) is launched in 2012, to the great pleasure of water sports enthusiasts!
Our ponchos are mainly
unisex

To see everything it's over here 👇
Showing 1–24 of 161 results
Long Sleeve Poncho 79,95

€

V Poncho Jacquard 69,95

€

V Poncho Countries 69,95

€

V Poncho Kid 54,95

€

Classic Poncho Beach Crew 64,95

€

V Poncho Junior 54,95

€

V Poncho Kid 54,95

€

Shower cap 39,95

€

Poncho Child 44,95

€

Shower cap 34,95

€

V Poncho Beach Crew 69,95

€

V Poncho Bumpy 69,95

€

V Poncho Countries 69,95

€

Classic Poncho Jacquard 69,95

€

Classic Poncho Flash 54,95

€

Long Sleeve Poncho 79,95

€

Long Sleeve Poncho 64,95

€

T Poncho Light 59,95

€

V Poncho Beach Crew 69,95

€

V Poncho bumpy 69,95

€

V Poncho Beach Crew 69,95

€
Surf poncho : how to choose it ?

You are looking for a surf poncho but you don't know how to choose it ? Don't panic! Whether you are a surfer / windsurfer / kitesurfer, swimmer or diver, and whatever your needs, we have all the tips to find the right surf poncho for you! Discover below our advice to choose your surf poncho, according to your situation, your needs and your desires. From timeless basics to the latest collection, you are bound to find the one you need for the sweetest water sessions ever…
Which surf poncho for a woman?
Whether you are a man or a woman, a surf poncho is always a good idea to stay warm after a water activity or to change discreetly without revealing your underwear to everyone… We have therefore created unisex surf ponchos to suit everyone.
But at ALL-IN, our mixed team has also considered the specific needs of women in terms of women's ponchos. In order to maintain female privacy, it was necessary to create a new cut, with narrower sleeves so as not to reveal any part of the female body and to properly conceal your chest when wearing it. That's how our "T" shape came about! Narrower sleeves, more feminine designs, one size fits all but designed for body types from 1m55 upwards, the best for practicing your board sports without worrying about finding a safe place to change.
And there's another important point for you women… the hair! The hood of the ALL-IN surf ponchos is lined to help you dry your hair as efficiently as possible, whether it is short or long. It's handy to have your head and hair warm, just like the rest of your body.
We agree, a good poncho is much more effective than our classic towels for women who want to dress, undress and change discreetly!
Need more information? Visit our women's surf poncho page!
And for men?
Sometimes men and women don't necessarily have the same needs when it comes to surf ponchos, and we at ALL-IN have anticipated this too. Our collections are designed to suit the needs of each sport, each season and are available in unisex, men's and women's versions.
If you are a man, we advise you to first pay attention to the cut and dimensions of the product you choose. Indeed, your comfort will be of primary importance when you change into your surf poncho. It is therefore important that the surf poncho you choose offers you enough space inside to allow you to remove your wetsuit or boardshort without having to bend over! When you get out of the water after surfing or wakeboarding, or even after swimming, comfort is important.
And to find your men's surf poncho right away, browse through our website: the different sections will help you make your choice and choose the ideal poncho for your water sports or outdoor activities. We even have a range for large sizes, did you know that? Also check out the new collection, there are lots of fun and colourful new models!
Still need more information to choose your surf poncho? Discover our page : men's surf poncho.
Choosing a surf poncho for a child
You are looking for a surf poncho for your child and you don't know how to choose it or which model to choose? We have the solution for you at ALL-IN. We've designed a range especially for youngsters, to suit all kids. It's quite easy: you just have to choose the size of the poncho according to the age of your child. Forget about bath and beach towels for your child: opt for the surf poncho, 100 times more practical and much more fun…
Did you know that ALL-IN has several ranges for children? We dress children and teenagers from 0 to 15 years old!
For the very young, from birth to about 2 years old, we have designed embroidered bathing capes that are as practical for the beach as for bathing at home. And on top of that we gave them a nice look, discover them here and tell us what you think of their embroidery.
From 2 years old, as soon as they are old enough to change by themselves, choose the poncho with the teddy bear ears! Pockets, a hood and prints they will love.
At 6 years old, they are still small but they like to do things the big way. Our kids' surf ponchos, the "Kid" model, are very similar to those of the grown-ups but are adapted to the morphology of children.
Finally, from 9 years old, the Junior models will be perfect for your teenagers!
And for the older ones (15 years old and more), you just have to pick from the Adult collection which will suit them perfectly.
To go further and discover all the elements to take into account when choosing ponchos for the young surfers in your tribe, this is the place to go! We present you the models and their advantages to help you choose and keep your children warm or protected from the sun, without effort. More info : poncho surf child.
What poncho to wear when surfing in winter?
Do you practice water sports even in winter? Swimming, Windsurfing, Kitesurfing, Surfing… It can sometimes be icy out of the water. The ALL-IN team knows this and has experienced it a lot! ALL-IN has therefore decided to create special winter surf ponchos, specially designed to fight against the inconveniences of the cold season when practicing your water sports.
For winter, we advise you to choose long sleeves. Made of thick, durable, quality terry cloth, the long-sleeved surf poncho will be your best ally for cold days and therefore ideal for winter. Tightened at the ends of the sleeves, it will keep your body warm while you change or wear it. And that makes a difference! You'll find several long-sleeved models in the ALL-IN collections, both winter and summer. And do you know what? There are even waterproof ponchos to keep you dry. We love the soft, warm and absorbent terry cloth interior.
And for those of you for whom the winter season is mostly about cocooning, casual chill and even hibernation, we have two great products to introduce you to… The Boyfriend Poncho (unisex and oversized) and the Plaid Poncho (100% fleece, a treat!). You want to know more about these 2 ponchos for winter, that the whole world will envy you because they are so comfortable and soft for the cold season? Come and read our article on winter ponchos, they will no longer hold any secrets for you!
Do you surf in the summer? We have the right poncho for you
Summer at last! Long days on the beach, by the pool or comfortably installed at the campsite to enjoy your holidays… All you need is a surf poncho to fully enjoy your water sports. But how to choose without making a mistake? Follow our guide! When choosing your summer poncho, the main question to ask yourself concerns the material. Some people choose soft, thick terry cloth, both in winter and summer, for warmth and comfort. For others, it's lightness that counts! For them, we have designed ponchos in microfibre. Thin, light, easy to carry, the microfibre poncho surfing does not forget to be maxi-absorbent! So less bulk, for as much absorption? We say yes! So, it's the ideal surf poncho to go on holiday, on a trip, when space in the suitcases is not infinite… And as we like fun and colours at ALL-IN, we have declined the microfibre version in several original prints, chances are that you will have trouble choosing…
Terry cloth ponchos: advantages and disadvantages. Comfortable above all…
The terry surf poncho is one of the basics you must have in your wardrobe. Why? Because it has multiple advantages that we will detail in this little article
Let's start with an important reminder: the terry cloth used for our surf ponchos is 100% cotton. This is already a very important point. This material has many advantages that make it one of the ideal materials to make efficient and quality surf ponchos, and perfectly adapted to your uses.
At ALL-IN, what we also like about terry is that we have a choice! Choice in cut, size, colours, designs, sleeves (long, short or sleeveless), with or without hood etc… Terry surf ponchos come in a multitude of models: timeless plain or fun prints, you choose your favourite!
But does it really suit you? It all depends on how you use it, how regularly you practice it and your personal taste too.
Microfibre surf poncho: advantages and disadvantages. Practical and efficient…
If you are hesitating to choose a microfibre poncho, we will give you our professional opinion on the advantages and disadvantages of this type of poncho.
You should already know that microfibre material is synthetic but very technical, which gives it significant advantages, especially for everything related to water sports. A few examples: light, compact, fine, soft, absorbent, quick drying etc… Microfibre can therefore be really suitable if you are looking for a travel surf poncho for example, or to use it when it is very hot as well.
Of course they will not be suitable for everyone as they have to be chosen in specific cases, depending on their advantages and disadvantages.
To help you see more clearly and know the particularities of microfibre at your fingertips, we invite you to this page, where we have written a complete explanation of the strong and weak points of this material. You'll be surprised by all the advantages that microfibre surf ponchos can have!
Opt for an eco-friendly brand
ALL-IN has been in existence for 10 years now and has always turned to ecology to develop. In concrete terms, this translates into the elimination of plastic packaging to achieve zero plastic products today. We are also looking to offer increasingly green products, using materials with a low ecological impact such as bamboo. Recently, we also opened a wetsuit repair workshop to encourage surfers to repair rather than throw away.
So, since 2012, ALL-IN has gained a lot of expertise and has become the specialist brand for surf ponchos. By making this product accessible to all while adhering to an eco-responsible approach, the SME based in the South West of France has succeeded in creating fun surf ponchos without compromising on quality. Over the years, the ALL-IN range has grown and now offers several shapes, cuts, colours and sizes of surf ponchos and innovative accessories for all those who love board sports and outdoor life.
Discover all our models and have a look at the new collection! Welcome to the sweet transition…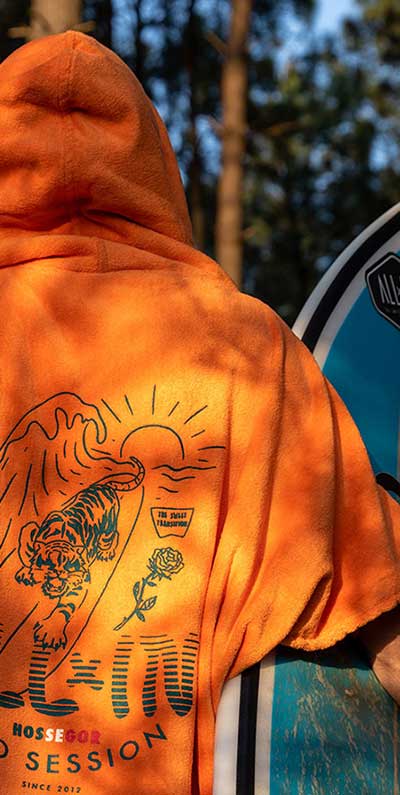 Sign up for the newsletter to get 10% off your first purchase!
Sign up for the newsletter to get 10% off your first purchase!