Plaid ponchos 100% recycled material
Hat offered for plaid ponchos orders until 30/11/2023: add the hat of your choice to the cart and enter the code chill2023 at the time of the order.
Discover the ALL-IN plaid poncho: an exceptional quality made from recycled materials. With a sherpa interior as we like them, and a velvet exterior, our plaid poncho is a concentrate of softness. The good news? Our products are reversible according to your desires!
Want to make a practical and unforgettable gift for Christmas, a birthday or any other occasion? The plaid poncho is definitely a good idea. Whether for an adult or a child, you are sure to score points!
More comfortable than a jumper, and less bulky than a blanket that you would have to carry around, the plaid poncho is a perfect compromise between practicality and comfort.
Put it on as soon as it gets cold, and just take it off to go to the bath!
We offer several sizes as well as several colours so that there is something for everyone.
A word about the ALL-IN plaid ponchos
Summer nights with friends on the terrace will be much more pleasant when you are wrapped up in your poncho plaid at nightfall.
You will find in this indoor model, the aestheticism of the surf ponchos signed by the brand ALL-IN, revisited as an accessory for the house. Wear it every day to stay warm at home!
3 sizes available depending on the model:
L-XL for 1M75 and over
XS-M for 1m50-1m75
Junior for under 1m50
Thanks to their loose fit, they will suit all the family, all body types and all tastes, with a nice work on the design which is fun and modern.
To bring even more comfort to this accessory, we added a thick, fleecy hood, openings at the wrists to let your thumbs through and lose as little heat as possible, as well as a large kangaroo pocket on the front to slip your hands, your phone or your pack of tissues in… it's up to you! And to top it all off, the long and wide cut allows you to curl up and snuggle your legs inside when you're in chill canap' mode listening to music with a good tea.
Our Plaid Poncho is the ultimate in softness with its velvet exterior and soft sherpa interior. From grey to pastel to flashy yellow, there's sure to be one to suit your preference. Want to change colours? Easy, the poncho is completely reversible! A fun side to keep the style and a white side, just as comfortable, for more sobriety.
Our plaid poncho is a stylish and all-purpose gift, ideal to give to your loved ones. You don't need to be the surfer of the year to put it on, you just need a cocooning and super practical accessory to be at ease at home.
Combined with the essential Charentaises All-in, you can adopt the total Home look, in comfort and trendy mode.
Are you looking for a woman's model? We offer you a small selection of plaid ponchos for women.
The plaid ponchos designed at ALL-IN have more than one advantage. This time, you can use the poncho from the ALL-IN cocooning range, far from the beach… on your sofa! No more need for a blanket in front of the TV, you have found the ideal and practical pullover blanket with this hooded poncho, which allows you to stay warm while keeping the use of your arms.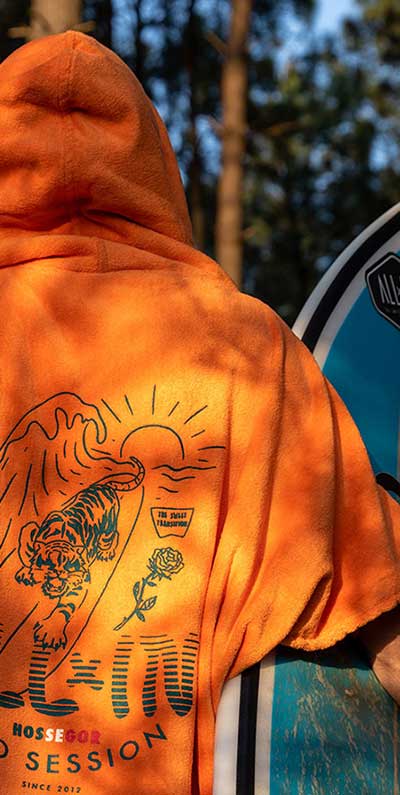 Sign up for the newsletter to get 10% off your first purchase!
Sign up for the newsletter to get 10% off your first purchase!