100% recycled microfiber ponchos
Fast drying and convenient to carry!
The microfibre poncho was created as an alternative to the terry cloth model, it meets the precise need of those who want a compact and light bath or beach accessory to carry, or who prefer thin and soft ponchos for reasons of comfort in hot weather.
Our ponchos are mainly
unisex

To see everything it's over here 👇
Travel Poncho 69,95

€
In addition to its famous terrycloth ponchos, the ALL-IN brand has found it wise to create a microfibre product. And why? Because there are many advantages to using this material. We explain it all to you!
Microfibre ponchos: presentation
Before giving you the advantages and disadvantages of the microfibre poncho, let's introduce it. It was therefore interesting to use it in our product range. Short sleeves, with a hood, and with a large kangaroo pocket on the front, whether you are a man or a woman, discover the designs available on our site.
Microfibre surf ponchos: advantages
The microfiber poncho has so many advantages that we don't know where to start! First of all, the number one advantage is that it is of course super light, much lighter than a terrycloth poncho. And that's very practical to carry it around without getting bogged down (travel, beach day, vanlife…).
2nd advantage : its softness ! If you've ever touched microfiber fabric you know what we're talking about… It is a very soft material and therefore very pleasant on the skin.
Did you also know that microfibre is ultra-absorbent? Microfibre fabric is indeed well known to be very efficient in its absorption and to leave your skin dry faster than a classic terry towel. Another advantage of the microfibre surf poncho that we would like to highlight is its quick drying. Of all the materials, this is the one that dries the fastest: practical when you have several sessions in a day.
Also very useful: the ALL-IN microfibre ponchos are available in one size only and are therefore suitable for all body types, from size S to size XL. No more hesitations about the size of your surf poncho!
And last but not least… The ALL-IN microfiber fabric is 100% recycled! Made from recycled polyester (88%) and recycled polyamide (12%), our microfibre poncho towels respect the planet for a more sustainable consumption! Great news for eco-conscious consumers.
Microfibre ponchos: disadvantages
In some specific cases, choosing a microfibre poncho surf will have disadvantages for you. Here are a few things to be aware of.
To begin with, we recommend that you skip the poncho if you're over 6 feet tall. Indeed, the ALL-IN model being one size fits all, it might make you look like a mini-skirt and this is certainly not what you are looking for!
We should also point out that the microfibre fabric does not feel as warm as the classic terry cloth ponchos. This is because it is much thinner and lighter. They are therefore perfect for summer, but should be avoided by those who are cold!
Finally, for those who like cotton and the thickness of terry cloth, synthetic microfibre will not give you complete satisfaction, but our range of terry cloth ponchos is waiting for you online!
Whatever your reason for choosing a microfibre surf poncho, you won't be disappointed with your choice: they are a hit on beaches and poolsides every year… all over the world! So don't forget to slip it in your suitcase for the next holidays…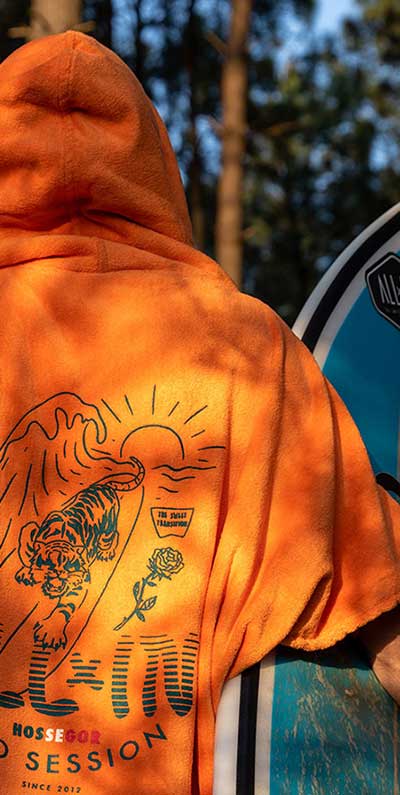 Sign up for the newsletter to get 10% off your first purchase!
Sign up for the newsletter to get 10% off your first purchase!