Surf poncho, swimming poncho, winter or waterproof poncho, for men, women or children… Everything is possible at ALL-IN!
Discover the history of ALL-IN ponchos told by the one who knows it best: Jean-Baptiste Caste , its founder.
The debut of "new generation" surf ponchos
In 2011, I noticed that the surf ponchos on the market were of insufficient quality and all were black in color. You couldn't find thick and warm adult terry ponchos, nor surf ponchos designed for women , and long sleeve ponchos (ideal for winter) hardly existed!
My idea: to create better quality ponchos, with more colors and choice of shapes.
Graduated from a business school after an end-of-studies internship at Rip Curl Europe, I started the ALL-IN adventure in 2012 . My small French brand already offered innovative, colorful and quality surf ponchos, which quickly overshadowed those of the major surfwear brands. The ALL-IN brand, specialist in surf poncho, was launched.
A surf poncho: what is it for?
Lovers of surfing, kitesurfing, windsurfing, swimming in the pool, the beach, the sauna, etc. Adult or child, you need one of our change ponchos. For example, when I go surfing, I can't do without my terry poncho! I'll explain why …
When you practice a water sport, there are 2 difficult moments: changing discreetly before going surfing (because often you are in a parking lot in full view of all), and take off your wet wetsuit without getting too cold once the session finished …
I tried to change with a beach towel : the catamaran. This is not at all suitable:
Fall if it's too small
Hang out on the floor if it's too big
Does not cover the upper body so does not keep you warm, and unsuitable for girls
Not dedicated to changing, so lack of hygiene if the towel has been lying around on the beach before, for example.
The bath poncho offers a lot of advantages: in ultra-absorbent terrycloth, it allows quick drying while being soft and warm (for even more comfort in winter for example, opt for our models with long sleeves ). Practical, it also allows you to change easily and discreetly after a session in the water: surfing, windsurfing, wake, swimming, diving, SUP… and many others! With or without sleeves, its unique shape leaves your hands free for great arm mobility. Once changed, put your wet things inside: bikini, jumpsuit, swimsuit… It absorbs moisture perfectly.
It is also not uncommon to see surfers returning home in poncho, over their wetsuits to go straight to the shower.
A poncho isn't just for surfing
Other sports have also adopted the change poncho: kitesurfing, triathlon, mountain biking, and even skiing and snowboarding: we all want comfort and to be warm after the effort!
Over time I have also found that the surf poncho is useful and appreciated at home too. No more bathrobes, make way for the bath poncho! After a good hot shower, a bath in the sauna, in the swimming pool, in the jacuzzi, put on your poncho to chill comfortably and in style. Adults love it… and kids too!
At the beach and at the pool, drying off and warming up becomes fun and, above all, your kids are independent. We also like the beach poncho which allows you to put on an easy swimsuit, even on a crowded beach.
In short, the Poncho is a real portable changing cabin, warm and comfortable, and with style to boot!
And now imagine a waterproof poncho… That lets you stay in the rain without getting wet. This is the case with our STORM Poncho ! Completely waterproof, it is ideal in many situations: to stay on the beach when it rains and watch the children surf, to wait during a surf or windsurf competition, on a diving or wakeboard boat, and for all your leisure activities in outside. An innovation that we are proud of at ALL-IN. And guess what? it is also available in child size! Find out here.
What materials for the ponchos?
At ALL-IN, we use only 3 materials for our ponchos: 100% cotton (velor sponge and honeycomb weaving, absorption, warmth, comfort), bamboo (natural and eco-responsible material for the Organic range) and Ripstop recycled nylon, resistant and breathable, for waterproof models.
Unlike our competitors, we refused to use polyester in the composition of our ponchos, and preferred more natural and ecological compositions, even for printed ponchos, which is rare.
We went even further: our cotton is of quality (280gm2 for the Honeycomb and 380gm2 for the sponge) and is OEKO-TEX® certified (no chemical element harmful to the skin and the individual) and AZO free (dye without heavy metals) . Our ORGANIC ponchos are made of 500gm2 bamboo sponge .
The advantages of our ponchos for the beach and the bath
We didn't stop there: for you to have an ideal poncho, all our models have side pockets and a hood with drawstring, to protect yourself from the wind, the cold, and dry your hair.
We also offer cuts precisely designed to meet your needs and adapt to the morphologies of all, men, women, teenagers and children, from 3 years old.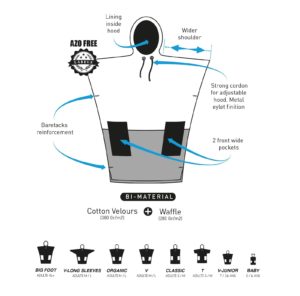 Men, Women or Children: which size should I choose for my bath poncho?
Adult or child, choose your poncho first according to your size. The diagram below will help you!
Then, several shapes exist: short, long or "V" shaped sleeves, size XXL, "hooded sweatshirt" shape… Most of our models are mixed, and we also have a children's range ( children's ponchos from 3 to 6 years old , and junior ponchos from 6 years old).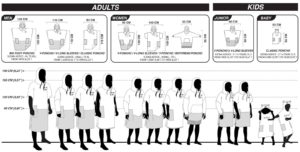 Colorful ponchos adapted to your needs!
Are you looking for a poncho to protect you from the rain and the cold? => Choose the STORM PONCHO waterproof on the outside and warm and cozy on the inside. Adult version or child version !
A poncho to stay warm in the middle of winter => Our 100% Cotton Long Sleeve Poncho is ideal.
Looking for a light poncho for travel or to wear in the summer? => We just invented the Light Poncho Waffle!
Do you want more room inside the poncho to change even more easily? => This is the V Poncho that you need
Do you need a simple and effective poncho? => Our range of CLASSIC Poncho is perfect for you.
For women who want more privacy in terms of the sleeves and a size that matches them => We don't just think of men, we have created the T Poncho especially for the body type of women.
We saw you sting your boyfriend's sweatshirts to stay chilly at home => Treat yourself to the BOYFRIEND Poncho to squat on your sofa after the shower! So much more comfortable than a bathrobe… It is also ideal for going to the beach in a bikini.
What if there was a bath poncho that can also be used as a beach towel? => Our 2 in 1 towel poncho is made for that!
Are you looking for a poncho for children? => Junior ponchos are for kids from 7 to 15 years old, and children's ponchos (with their teddy bear ears) will perfectly dress children from 3 to 6 years old. No more bathrobes and towels!
Recommended articles