Our brand was born from a mission: to make your transitions smoother. What are we talking about exactly? It's believed that you don't deserve to be exposed to the cold when you get out of the shower or a surf session, the wind when you're at the beach, the rain when you brave the elements for your outdoor recreation. We believe that it is possible to make these moments sweeter and more pleasant for you. So we create ponchos and surf accessories, fun and practical, warm and comforting to make your transitions smoother! This is the sweet transition !
Whether you are at the beach, at home, camping or on the spot, we have invented some essential accessories that will make your life sweeter …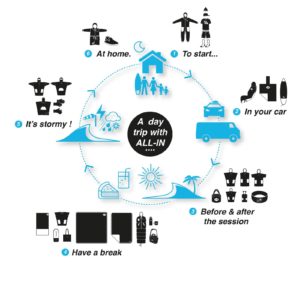 Protect your car when you go surfing!
The first delicate step when you go surfing: the journey from the house to the surf spot. Listen to the experience of Jean-Baptiste Caste, CEO and founder of the ALL-IN brand : "When I went surfing or windsurfing, I systematically got my car dirty while carrying my equipment. And on the way back, it was worse: thousands of grains of sand were found in every corner of my vehicle, on the seats, in the trunk, everywhere… My attempts to protect the car seats or the trunk with a beach towel were a total failure! Totally ineffective… It was time to find a solution to protect both my equipment and my car. "
HIGHLY EFFICIENT AND STYLISH CAR SEAT PROTECTION
This is how ALL-IN developed the SEAT COVERS seat protectors. These covers look like two drops of water like ponchos, with a hood protecting the headrest of your seat, and 2 large back pockets directly accessible for rear passengers. Ideal for storing wax, water bottles, books, children's toys …
There are 2 types of materials for our seat covers, to choose according to your habits:
Rather like coming home in a wetsuit, without changing, or changing spots during a session? You will love the STORM seat cover ! On the one hand: softness and absorption thanks to the 100% cotton velor terry cloth. On the other hand: the effectiveness of the waterproof nylon ripstop face to protect your seat. It's up to you to choose your favorite side, but you will be safe from humidity and salt stains!
You rather want a comfortable protective cover, usable all year round and whatever your activity? Cover your car seats with our terry Seat Covers : 100% cotton, softness, thickness… Guaranteed comfort at the wheel.
A CLEAN AND PROTECTED BOX BEFORE AND AFTER SURFING
And your safe in all of this? It is out of the question for it to remain dirty and full of sand… Protect it with our BACK COVER trunk mat. A shape that adapts to all vehicles, a resistant and waterproof nylon coating on one side, and 100% cotton terry velor on the other, for softness and absorption. Perfect for accommodating your sanded and wet boards, your wetsuits, your dog or your gardening bags… The plus? A retaining tab that also protects the driver's armrest.
Now that your car is protected and out of danger, let's take care of your sliding equipment. Carried, ridden, waxed, wet… Your board is also entitled to a little softness. Pamper it with our "sock", the traditional protective cover for surfboards. Designed in 100% cotton terrycloth, thick, absorbent and resistant, it follows the contours of your board to provide it with full protection and allows it to be transported without damaging or dirtying your vehicle. We have taken care to reinforce the nose (the end of the cover) with an ultra-resistant Nylon RipStop fabric. An internal Nylon pocket strategically placed at the level of the daggerboards, allows you to store leash or accessories. The cover closes with a drawstring. Ultimately it's cool to be a surfboard.
The different sizes and shapes will adapt perfectly to the style of your wake or surf board !
And to transport all your belongings, JB recommends the CLEAN KIT !
"Personally, I always take two with me, one for my change inside then put my wet things when I get out of the water and one to put my dry things like my poncho, my water bottle, my wax…" Discover here all the possible uses of this accessory. Warning: to try it is to adopt it! You have been warned …
To the beach
The beach is the poncho's favorite playground. To change, to dry off, to chill, to shelter from the sun, the wind, the cold…
If you go surfing, you know that you have to be cunning so that everything goes for the best when you are in the water: locate the location of your towel on the beach, hide your car keys etc … Stop digging yourself head, the solutions are here:
the CLEAN KIT is available in several colors. Pick yours and it will become your visual cue on the beach if you're drifting in the water or looking for your things when you get out of the surf.
The SALTY BELT will not help you hide your keys … but take them with you! Discover this innovation that we have been waiting for too long: a waterproof and comfortable surf belt to go in the water with your most delicate items: smartphone, keys etc …
In water
Finally, you are in the water … The session starts, the view is phew, you would like to have a memory of this light on the beach, seen from the sea, and share it with your friends. Grab your cell phone, it's around your waist in your SALTY BELT belt! Easy to use, it is in its waterproof pouch 100% waterproof and secure with an elastic that prevents it from slipping at the bottom of the ocean … You can shoot 🙂 Or call for help if you are in difficulty, but that we hope that will not happen …
We tell you in detail here about our SALTY BELT patented and made in France! You will see, it will surprise you again.
Take a break on the spot
On the spot, 2 solutions: either it's raining, in this case take shelter and warm up with our STORM Poncho 100% waterproof , either the weather is nice, and we advise you to enjoy the sun and the hot sand thanks to our soft and absorbent 100% cotton beach towels , available for 1 person or in size XL for 2-person squatting. We also thought of your trips or busy beach attendants: the Light range offers ultra-light models in honeycomb weave, without any compromise on quality and absorption. In addition, we have chosen very fun, cool and original colors: check here!
No no, we haven't forgotten the essential and timeless beach bag: in a terrycloth tote version for the most busy, or in a dual-material bundle mode for the more active!
Hey, what about the Clean Kit? We told you it was multifunctional. Yes, it can also be used to transport equipment and belongings to the beach. You will love its lightness and strength, and you can even use it to pick up waste that you no longer want to see on the sand. Check out its other uses here.
Ponchos and surf accessories all the way home!
That's it you've come home. So here is the secret of total chill, maximum level of comfort: the shower-poncho-charentaise-sofa combo! Ah yes, that makes you want.
The ponchos, you know them (if not a catch-up session here ) and the Charentaises, we can only say good things about them. Collaboration with the Rondinaud house , they have been traditionally made in their workshop in Charente since 1907.
Since the ALL-IN brand is strongly committed to quality, ethical and eco-friendly approaches, the idea of a Made in France collaboration with Rondinaud was quickly evident.
Together, we have created several models of french slippers in ALL-IN colors: sparkling, colorful and quirky, and without compromising on quality and comfort (100% new wool, felt sole), and they are available here! Dip your feet in a pair of Charentaise and you will see for yourself… We understand better why our grandpas never left theirs!
In short: think about our ponchos and surf accessories if you want to make your transitions much smoother …
Recommended articles