ALL-IN : surf ponchos and equipment for water sports
fleece-lined tracksuits available for pre-orders!
Special offer: free recycled hat for every pre-order
prepare for winter with our plaid ponchos
replace your towel with a poncho
Terry ponchos for surf, beach and home...
spring / summer 2023
Classic Poncho Flash 54,95

€
ALL-IN, ponchos but not only!
ALL-IN is first and foremost a passionate surfer and windsurfer, Jean-Baptiste Caste, who one day had the bright idea of creating innovative accessories to make all your transitions smoother. ALL-IN started with the surf poncho and high quality towels, then balanced its offer with the demand of its customers. Patented waterproof belt, bathrobe, diaper bags, board covers, and many other products were added.
Very well cut (I am 1m60), I took a woman model, these ponchos are very comfortable and very practical, the whole family has his. Finally we use it after each shower so we feel good
Ocean or Lake Geneva, same fight… it's chilly when you get out of the water. ALL-IN products are beautiful as well as functional.
Ordered on Tuesday, December 21 online, delivered on Thursday, December 23 in the morning as promised, great for the Christmas gift. Madam is delighted 😄
ALL-IN comfort at home is now possible!
We are always happy when you share personal stories on social networks. We have noticed more than once that some ponchos have been transformed into bathrobes and robes for our clients or their loved ones. It is from this observation that we elaborated the bathrobes, which are naturally accompanied by our charentaises realized in partnership with the house Ron Rondinaud.
V Poncho Countries 69,95

€

Classic Poncho Flash 54,95

€

V Poncho Kid 54,95

€

Making something new out of something old? It is now possible with us! ALL-IN works daily in favor of sustainable development and launches its new Upcycling program. What does it involve? Don't throw away your old ponchos – we'll recycle them for you and give them a new lease of life in our workshop in Hossegor!
When you own a surfboard, it is essential to protect it as well as possible to transport it and…
Long live progress! Today, car keys are no longer just keys. They have become electronic and sophisticated. It's true…
Are you a scuba diver or snorkeler who needs a diving poncho? In fact, it's the ideal accessory for…
ALL-IN, leader in poncho surfing since 2012
More than 10 years ago, the ALL-IN surf poncho was born following the observation that the only models available for purchase were of a plain colour, often black, and of poor quality. The brand was created with the objective of turning this product upside down by proposing numerous colours and by choosing high quality suppliers.
Whether you practice surfing, bodyboarding, wakeboarding, kitesurfing, windsurfing, stand up paddle or even diving and any other water sport, our poncho can suit you to get out of the water. It is ideal to remove your suit while remaining discreet and without the risk of dropping a towel around your waist. It is also used to put on your wetsuit while staying out of sight.
By the way, this also applies if you are in a bikini or swimsuit on the beach. Our ponchos can easily replace the traditional bath/beach towel, which is generally less absorbent.
On top of that, our ponchos keep you warm and dry in all conditions. Indispensable in winter, when getting out of the water can be complicated because of the cold, with our thick cotton ponchos. And very comfortable in the summer, to protect yourself from the sun and dry without burning, thanks to our microfiber ponchos, very light.
We have an extremely wide range of surf ponchos. There are some for men, as well as for women and children, with special features for each of these clienteles, including design and size. You will find short sleeves, type "classic", as well as mid-length sleeves, type "V" which facilitates the movements, and finally long sleeves.
Our ponchos are not just for surfing or the beach. They can equip you for any sport, if you need to wash up afterwards! It is also often used at home as a bathing poncho for a casual shower outing.
Our in-stock models can be found in our online store, where we try to provide you with a pleasant experience and are available to answer your questions. If you prefer to buy in a surf store or outdoor store, our products are available in surf shops or surf schools, don't hesitate to look at our "Our retailers" tab.
Surf ponchos in terry cloth: comfortable above all…
The terry surf poncho is one of the basics you must have in your wardrobe. Why ? Because it has multiple advantages that we will detail in this short article
Let's start with an important reminder: the terry cloth used for our surf ponchos is 100% cotton. This is already a very important point. This material has many advantages that make it one of the ideal materials for making effective, high-quality surf ponchos that are perfectly suited to your uses.
At ALL-IN, what we also like about the sponge is that we have a choice! Choice in cut, size, colours, designs, sleeves (long, short or sleeveless), with or without hood etc… Terry surf ponchos come in a multitude of models: timeless plain or fun prints, you choose your favourite!
But does it really work for you? It all depends on your use, the regularity of your practice and your personal taste too.
Microfibre surf poncho : practical and efficient…
If you are hesitating to choose a microfibre surf poncho, we will give you our professional opinion on the advantages and disadvantages of this type of poncho.
It is important to know that microfibre material is synthetic but very technical, which gives it considerable advantages, especially for everything related to water sports. Some examples: light, compact, thin, soft, absorbent, quick drying etc… Microfibre can therefore be really suitable if you are looking for a travel surf poncho for example, or to use it when it is very hot too.
Obviously they will not be suitable for everyone as they have to be chosen in quite specific cases, depending on their advantages and disadvantages.
HIGH QUALITY, made to last

EXPRESS DELIVERY
Free from 100€ of basket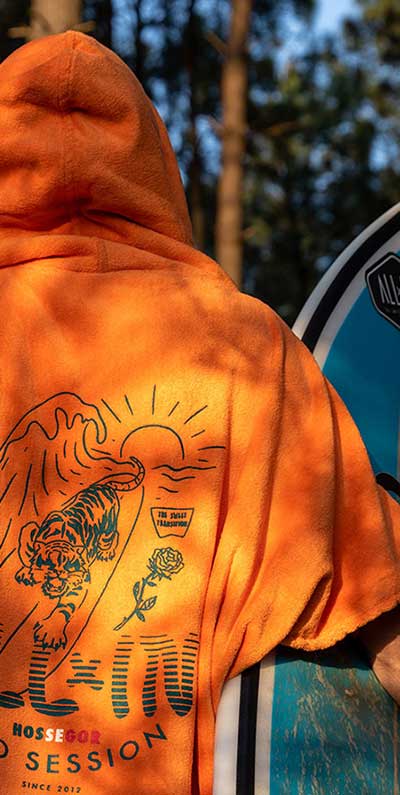 Sign up for the newsletter to get 10% off your first purchase!
Sign up for the newsletter to get 10% off your first purchase!