PROTECT YOUR CAR FROM HUMIDITY
Do you want to keep your car in good condition as long as possible? Then adding seat covers is a good idea! Our covers are super absorbent and protect your seats with a substantial layer of 380gm² cotton. This material will also give you comfort on the road, unlike completely waterproof formats.
Seat covers can be used in many situations. We launched this product primarily with surfers in mind, but in reality a much wider audience uses them on a daily basis. Mountain bikers, for example, who often find themselves covered in mud, kite surfers in Brittany who want to get home quickly after storing their equipment, or even dog owners who want to protect their dogs' seats.
Our models are suitable for all types of cars and seats. They can be placed anywhere in the car, not just in the driver's seat.
Choose your favourite colour from our wide range. We offer products in simple, solid colours as well as fun, colourful products!
Our ponchos are mainly
unisex

To see everything it's over here 👇
A word about ALL-IN car seat covers
There are two schools of thought when it comes to changing after a session: those who change directly with a change bag and those who prefer to take off their wetsuit once they get home, under a hot shower.
You can't blame the latter, what could be more annoying than taking off your gloves, slippers, bonnet and then your big winter suit in the middle of January?
ALL-IN offers protective covers for car seats in order to alleviate this discomfort! You can choose between the waterproof cover, which will keep your seat 100% intact, and the classic cotton covers which will do a good job but which you will have to remember to dry once you arrive at your destination!
Because ALL-IN thinks of everything, discover also the car boot cover.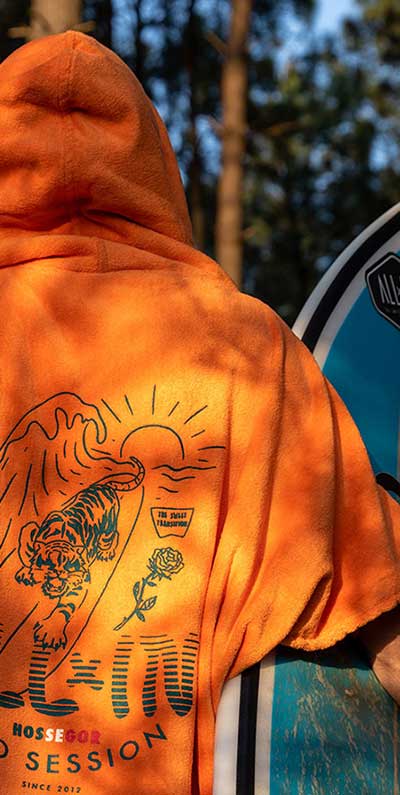 Sign up for the newsletter to get 10% off your first purchase!
Sign up for the newsletter to get 10% off your first purchase!